Stop Crime in Real-Time
RTI Systems Security Monitoring uses Video Analytics and 24/7 Live Video Monitoring to detect crime as it's happening. Eliminate the threat to your property. Our Security Surveillance Systems are more effective, and typically 1/3 the cost of live guards. RTIS can provide a system design, and deliver a quote for your project today!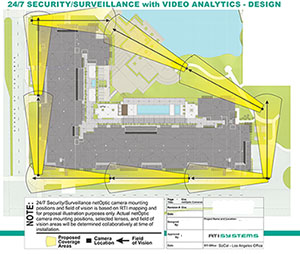 WHAT WE DO
RTI Systems (RTIS) specializes in High Definition Video Security/Surveillance and Live Video Broadcasting solutions. Our system solutions are as varied as:
Remote Monitoring Security/Surveillance using Video Analytics as a virtual guard alternative to a live guard scenario.
Live Video Broadcasting with unlimited concurrent viewers from desktop, web, video wall, tablet or smart phone.
Visual Project Management to enhance existing management tools
Enterprise-grade Security & Surveillance with Video Analytics for any number of netOptic cameras – at one location, or spread over multiple locations (city, state, provinces or countries
Quality Assurance Video Analytics to support Corporate SOP, Health & Safety, and OSHA guidelines

Why you should contact us:
We provide practical solutions that allow our clients to manage jobs and workflow better, increase productivity, and most importantly, reduce liabilities, risks, and costs, all designed to increase bottom line profits.
Our ability to deliver Security/Surveillance and Video Broadcasting solutions – with our immensely successful track record with Owners, Key Stakeholders, Investors, and Underwriters – makes RTIS an ideal strategic partner.